Like much of Europe, France has experienced a particularly hot month of May in 2022. Flowers are in bloom, the air is warm and vibrating with the hum of insects going about their business. Nestled in the vineyards of Saint Germain de Vibrac, in South West France, is our very special retreat space, Chez Vallée, ready, more than ever, after the past two years, to welcome visitors.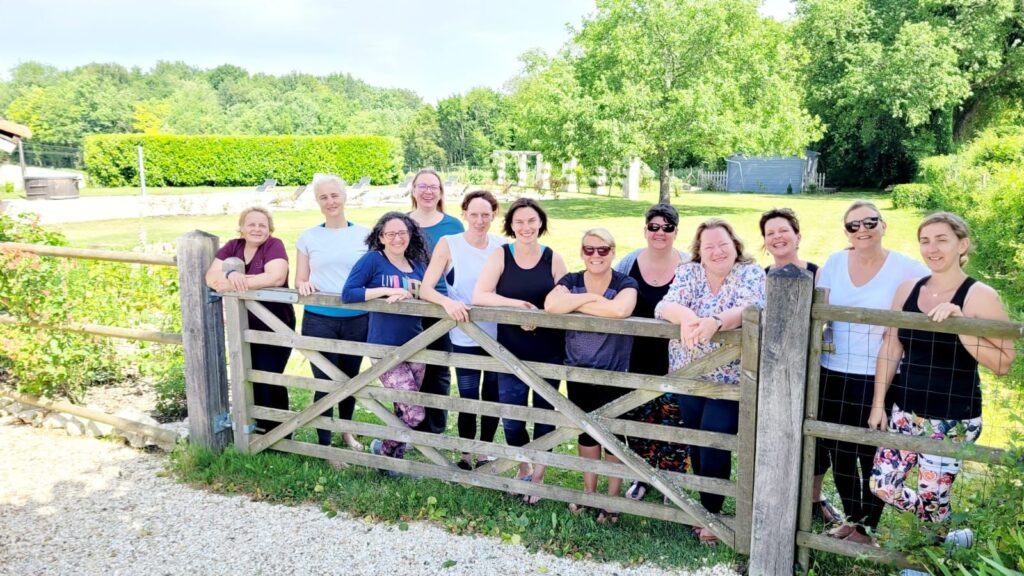 A beautiful place at the best of times, but when the sun is shining, you can feel the energy of the warmer seasons breathing life into every space, primed for our second Well Women's Retreat that took place on 13 -15 May.
Our wonderful group of ladies arrived on Friday, from around the world. Whenever I run a retreat of this nature, I always find it inspiring to be amongst a group of women who all come from different geographical places and personal backgrounds. Their diversity of thought in a safe, and non-judgemental environment unleashes a sense of well-being, like no other.
"What an amazing weekend of friendship, laughter, refreshment, and wellness. Thank you, thank you, thank you – I feel like a new woman!"
There's no two ways about it, Chez Vallée is a luxury retreat at an affordable price – this stunning renovated Cognac distillery, set amidst a panoramic view of rolling vineyards has been renovated with care and attention to detail. In every room that you enter you can enjoy the eclectic furnishings that we have gathered on our travels around the world, during the past 30 years, treasures from East Africa, Asia and the Middle East.
Usually, our retreats focus on communal living, which involves preparing meals and eating together. However, for this weekend program we welcomed our busy ladies with a little luxury for their first evening together and we hired a personal chef. This left our guests free to explore Chez Vallées' very special nooks and crannies, and identify one of the wonderful spaces that would nurture their needs most during the weekend.
Why indulge in a retreat?
We live life at a pace that is much more demanding and faster than ever before. Many women juggle full-time careers with parenting and all the challenges this brings, leaving little time to really take care of their own health and well-being. When I chat to women about taking what is essentially 48 hours for themselves, there is often a deep sense of guilt at indulging in themselves, despite the unequivocal research showing that women who do invest in regular self-care contribute to other aspects of daily life in a much more organised and calm way. I remember the guilt myself at making that first decision to go away on retreat. It was never present again and for the past 25 years a retreat (or two) each year are firmly stamped in my diary.
People join retreats for several reasons – some want to find themselves, by leveraging deeper connections with others, while others just want a break from their hectic pace of daily life. Others want to find their 'tribe' of like-minded people, to know they are not alone in their challenges and to brainstorm ideas and solutions for what seem like the most common challenges in daily life – parenting being one.
"Beautiful light! Wonderful company and wise instruction! Exploring liminality!!"
In that respect, Chez Vallée really does have something to offer everyone.
There's a very old saying that says 'you can't pour from an empty jug' and taking time for yourself, with a change of scenery can really help you resource yourself in a way that nothing else does. In fact, many guests to our retreats say that two days often leaves them feeling as relaxed as having had a week-long holiday.
This time around our retreat offered a range of activities – we always encourage our visitors to take part in as many or as few group activities as they wish.
Our very relaxed and non-compulsory program looked like this:
On Friday night we shared a relaxing Yoga Nidra experience before bedtime, under our oak tree as the sun set, allowing ourselves time to ground and understand that we had 'landed' in this space.
On Saturday morning we offered a rolling breakfast and some of our group took advantage of the bikes that we'd hired in, to check out the surrounding area.
This is not a diet restricted retreat!
Following the bike ride, we were all ready for lunch and the food was as delicious as always. Our stays are not restrictive where food is concerned – there is plenty to of wholesome vegetarian food, enough to satisfy the healthiest of appetites. We also accommodate special dietary requirements.
Saturday afternoon, we participated in an 'Inner Child' yoga workshop and creative play session – which was a time for laughter and fun. We all found a way to let our Inner Child out to play.
We collectively decided on the menu for Saturday night, all our ladies got to work in the kitchen. A delicious meal was served in the beautiful courtyard, followed by a dip in the pool or a lounge in the wood-fired hot tub, and stories around the firepit. It couldn't have been more perfect.
On Sunday morning I introduced our guests to the benefits of using a Neti pot, particularly during this season. As a counselling psychologist and Ayurvedic practitioner, I am always eager to help our guests understand which Ayurvedic practices can be extremely effective and easy to access in our European culture. After the collective fun of learning how to use it, we followed with a Pranayama practice (yogic breathing exercises) and then had a long and lazy breakfast together.
The added bonus this weekend was having a resident masseuse. This was an extra to the cost of the retreat, but something that many of the women, including me, took full advantage of during the weekend.
"A well-needed rest and haven that has recharged me and given me back my mojo!"
Sounds like a lot of activity, right? It was!!! But equally, for those in the group who were here to find time and space for themselves, they made full use of the wood-fire heated hot-tub, the pool area and, my own very favourite place at Chez Vallée, the meditation garden.
Finally, as a retreat guest, you are able to come before or stay afterwards at Chez Vallée, on a bed and breakfast basis, if you would like to take advantage of doing some private work with Amanda. Adding a day or so, to your stay, prior to the Women's Retreat can really enhance your experience.
October Retreat: Menopause and Ayurveda
This Retreat was another wonderful success and as a result, we have already planned in dates for the next programme that will be themed around 'An Ayurvedic Lifestyle for Managing the Menopause'.
In the western world, the menopause has been something that women have been encouraged to 'bear'. Until recently there had been very little by way of valuable, systemic support, and lots of misdiagnoses, resulting in women being given medication to manage depression or anxiety (two of many symptomatic states routinely treated through medication), instead of addressing the underlying issues that often arise simply through neglect of a good self-care routine. Ayurveda is an extraordinary tool for supporting us through menopause.
In the eastern wisdom tradition of Ayurveda, the menopause is a time of celebration – freedom from certain bonds, a move to the Vata stage of life, dominated by space and air. This is the polar-opposite to how most people in the west view the menopause. During our retreat we will aim to do some myth-busting and help you create new habits and routines that will serve you to navigate through the menopause with a positive mindset.
This topic is such a big issue for so many women, that demand is already high. We realise that due to capacity, we need to run two programmes: one on 3-5 October and the other on 7-9 October 2022. The cost will range from €280 – €400 per person for the weekend (depending on accommodation choices and single supplements). This cost includes all accommodation, food (fully catered by a resident chef), and activities and workshops for the entire weekend.
If this is something that you, or someone you know would like to get involved in, please get in touch with me at amanda@praanawellness.com.
The Praana Wellness Scholarship
Praana's philosophy has always been to make good therapy accessible to anyone who wants it, and we take this mission very seriously.
If you know someone who would really benefit from a stay at Chez Vallée, but perhaps isn't able to afford the full price, we are offering two scholarships for this retreat.
Simply drop us a line at amanda@praanawellness.com describing why you, or the person you are nominating, should be considered for a Praana Scholarship, and we will consider the applications. The most deserving of the applicants will be offered a scholarship to attend our next Retreat with accommodation in our luxury dormitory, free of charge.
Notes:
To find out more about Praana Wellness, Retreats, Therapy and online community groups, visit our website, or contact amanda@praanawellness.com